Come celebrate the launch of new Ellipsis Press titles. I'll be hosting a reading with Norman Lock, Joanna Ruocco, and special guest–Gary Lutz.
A hypnotic tale of artistic obsession, Norman Lock's SHADOWPLAY tells the story of a Javanese shadow-puppet master. "Wise up and get all you can of Lock," says Gordon Lish, "His writing was written by a writer exquisite in the singularity (read for this "genius") of his utterance." Joanna Ruocco's THE MOTHERING COVEN is a "work of wonder" says Carole Maso, a singular act of prose daring. Also reading will be short story master Gary Lutz.
Book party for Shadowplay & The Mothering Coven.
Saturday, October 24th, 2009 4-7PM
at Barbès | DIRECTIONS: 376 9th St, Brooklyn, NY
____________________________
Bryce stops outside the little room beneath the stairs. She slips a pixie stix beneath the door. Something furry slides out.

"A Rattenkönig," gasps Bryce. She looks around to see if anyone could have heard her. How could she think it was a Rattenkönig? It is a sheet of fake mustaches. Bryce thinks of all the hair she's swept into the dustbin in her lifetime and feels ill.

"They are beautiful," says Bryce. She recognizes one of the mustaches. The young man from the pinochle deck. Of course.

"More slings and arrows," sighs Bryce. She sticks the mustache to her palm, where her heart line used to be. It tickles.
From THE MOTHERING COVEN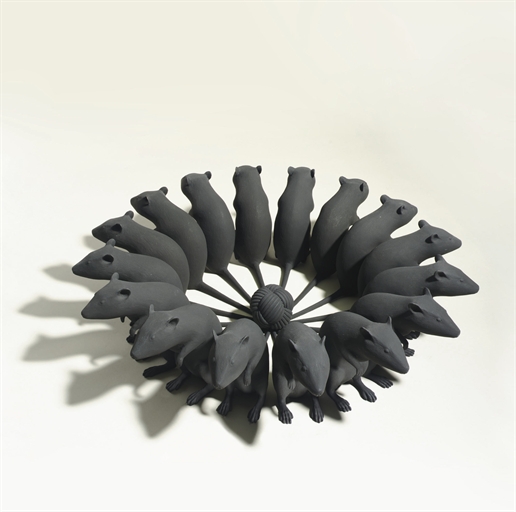 Image: Rattenkönig by Katharina Fritsch
Comments Off

on Norman Lock, Joanna Ruocco, and Gary Lutz read for Ellipsis Press