ISBN: 978-0374537111 | FSG Originals
___________________________
A fractal fable about the possibility and power of protest as told by three superheroes on their lunch break
In a small Midwestern town, two Asian American boys bond over their outcast status and a mutual love of comic books. Meanwhile, in an alternative or perhaps future universe, a team of superheroes ponders modern society during their time off. Between black-ops missions and rescuing hostages, they swap stories of artistic malaise and muse on the seemingly inescapable grip of market economics.
Gleefully toying with the conventions of the novel, Dear Cyborgs weaves together the story of a friendship's dissolution with a provocative and lively meditation on protest. Through a series of linked monologues, a surprising cast of characters explores narratives of resistance—protest art, eco-terrorists, Occupy squatters, pyromaniacal militants—and the extent to which any of these can truly withstand the pragmatic demands of contemporary capitalism. All the while, a mysterious cybernetic book of clairvoyance beckons, and trusted allies start to disappear.
Playfully blending comic-book villains with cultural critiques, Eugene Lim's Dear Cyborgs is a fleet-footed literary exploration of power, friendship, and creativity that recalls authors like Tom McCarthy and Valeria Luiselli. Ambitious and knowing, it braids together hard-boiled detective pulps, subversive philosophy, and Hollywood chase scenes, unfolding like the composites and revelations of a dream.
___________
Dear Cyborgs … blew me away with its deceptively blithe mixture of cryptic humor, philosophical ingenuity, and genuine political yearning. It made me think of Roberto Bolano and Tom McCarthy. I'm hoping to reread it soon for inspiration, and I hope it makes a splash out there in this overcrowded world.
—Jonathan Lethem, The Chicago Review of Books
Eugene Lim's Dear Cyborgs is a mad badass fan letter to comicdom and a chastening reminder of how America's greatest fantasy doesn't involve superheroes with superpowers but the prospect of a fair and honest political life. Go read it in the streets.
—Joshua Cohen
Eugene Lim tells his sly superhero tales in a kind of hard-boiled deadpan—a voice at once incongruously comic and playfully soulful. Beneath the dry wit there's an ache of loneliness, an echo of every comic-book reader's yearning for the camaraderie of the super team, the intimate enmity of the nemesis.
—Peter Ho Davies
Eugene Lim's Dear Cyborgs is a secret tunnel fresh with cool, strange storms. What is it to be super? What is it to be beyond? Dear Cyborgs is rife with mysteries, heroes, even heartache.
—Samantha Hunt
Eugene Lim's genre-bending Dear Cyborgs … is a smart, inventive, highly unconventional novel that explores themes of resistance, art, capitalism, and contemporary culture.
—BuzzFeed
This utterly entrancing novel… a lucid, provocative exploration of contemporary culture and themes like power, money, and friendship.
—Nylon
One of the smartest, strangest books I've read. This is a document of a side of the Midwest that goes largely uncelebrated: the population of tech-savvy, art-forward, and too often marginalized voices that shape the region's identity from the edges. Dear Cyborgs is brilliant in its blending of academic investigation and pop-culture tropes, and structurally invigorating from start to finish. I'm not quite sure what to call it, other than a total blast.
—Robert Martin, Midwest Independent Booksellers Association
[A] mind-bending, form-shifting book about superheroes, protest, the art world, Asian American friendship, and the abyss. What's most striking is how brilliantly (and seamlessly) Lim employs slippery narrative techniques in this novel in stories within conversations within dreams.
—James Yeh, Vice
[An] entertaining reflection on art, resistance, heroes, and villains. . . eerily reflective of our fractured times, darting from subject to subject with the speed of a mouse click. A colorful meditation on friendship and creation nested within a fictional universe.
—Kirkus
Two radically different story lines—one involving a short-lived friendship between two Asian-American boys in the Midwest, the other an ongoing philosophical debate amongst a team of superheroes—are cleverly tied together in this short, sly, unorthodox novel… The core relationships, whether they're between estranged childhood friends or opinionated superhumans, are real and profoundly moving.
—Publishers Weekly, starred review
[A] short but important novel.
—Jonathon Sturgeon in The Baffler
I was a few pages from the end of Eugene Lim's wondrous new novel, Dear Cyborgs, when I flipped back to the beginning and started again… His writing is confident and tranquil; he has a knack for making everyday life seem strange—or, in the case of Dear Cyborgs, for making revolution seem like the most natural thing possible. His writing is transfixing from page to page, filled with digressive meditations on small talk and social protest, superheroes, terrorism, the art world, and the status of being marginal.
—Hua Hsu in The New Yorker
Eugene Lim's Dear Cyborgs is a novel of ideas, small, elegant ideas about art and protest, and one of the most striking literary works to emerge from the Occupy movement . . . The possible futility, complicity, and co-optation of protest are the ideas Dear Cyborgs circles around without ever giving up on the idea that resistance is essential . . . I had expected the decade's wave of protests to yield a raft of conventional social novels—some earnest, some satirical, perhaps not a few reactionary—but in Dear Cyborgs Lim has delivered something far more idiosyncratic, intricate, and useful: a novel that resists and subverts conventions at every turn.
—Christian Lorentzen in New York Magazine
In a way, it's the most lucid book I've read lately. All the books I've related to lately have basically brought up the question(s) — what are we doing here? What are we party to? What is desirable? What is apt, given that the correct socio-political view is the horrified, baffled, fearful, woke one?
—JW McCormack at Electric Lit
I was certainly misled by the superhero element! … I think to write a book about immigrant experience that isn't about immigrant experience, about superheroes that skews their whole purpose, and about capitalism and resistance that doesn't succumb to bright-eyed idealism or weary cynicism is quite an achievement.
—Rosie Clarke at Electric Lit

Lim's third novel might be the most delightful read you'll find all summer . . . Through seamlessly incorporated meditations on political protest and radical art, Dear Cyborgs is an effortless page turner that dares the reader to believe in the power of the imagination.
—Anelise Chen at The Village Voice
Dear Cyborgs … sings the tune of language itself, music that Gertrude Stein and Gordon Lish could get behind, wherein the sentence is less a part than a whole unto itself.
—Josh Cook in Virginia Quarterly Review
Dear Cyborgs is stuffed with more complex ideas than many books three times its size.
—Michael Berry in the San Francisco Chronicle
Despite the suggestively sci-fi title, Eugene Lim's Dear Cyborgs is not a futuristic picaresque about sentimental robots. Rather, it's about artists and poets and painters, and the glimmers of compassion found between these individuals and their pursuits… A wild and wildly intelligent work, Dear Cyborgs skillfully employs elements of essay, noir, fantasy, and pop in order to question the limitations of identity in the Internet age.
—Robert Martin in Rain Taxi
Dear Cyborgs is as daring and exciting as it is thoughtful, and perhaps disheartening only because of the context in which it exists.
—Thomas Michael Duncan in Necessary Fiction
Eugene Lim's slim, haunting new novel, Dear Cyborgs… should vault him into the first rank of American writers.
—Ross Barkan in The Village Voice
Dear Cyborgs is a novel about art and resistance, and how they may spur each other on, or frustrate their respective goals. In structure it resembles the great mid-century metafictions . . . Eugene Lim's super-comrades, with their cultural disaffection and nuanced political opinions, offer a rather more compelling version of a collective consciousness.
—David Hobbs in the Times Literary Supplement
It's like nothing else you'll read this year: a bold, thought-provoking novel that unfolds in unpredictable ways.
—Vol 1. Brooklyn
Dear Cyborgs by Eugene Lim is very very very special and makes you feel like you're trapped in the Windows 95 screensaver maze but with other people and they tell good stories
—Tavi Gevinson
Eugene Lim's Dear Cyborgs is a novel of the future. It's surprising, and—while giving despair its full measure—it's surprisingly inspiring. A Bolano-esque labyrinth of shaggy dog stories flow through the narrator, describing the existential and physical conditions of a present in which it's easier to imagine the end of the world than the end of capitalism, but it's written in calm and succinct, elegant prose.
—Chris Kraus in Bomb Magazine
• • •
Read an excerpt.
___________________________
Beautifully written, so precise and accurate to real life that it is (fantastically) convincing, Eugene Lim's THE STRANGERS, with its multiple interwoven strands, reveals one surprising character and relationship after the next, and culminates in a skilfully devised and satisfying resolution. A fascinating and engrossing tale.
–Lydia Davis
•
What an astonishing book! Beautiful, original, with delicious surprises lurking at the heart of sentences, of events, of all the engines of communication. 
–Harry Mathews
•
THE STRANGERS is like a cabinet of curiosities put together by Georges Perec and Andrei Biely, hilarious and utterly seductive, a sharp commentary on the social and political architecture we cling to at our peril. And yet, while pulling the rug out from under the reader, Eugene Lim's book is a total pleasure. 
–Susan Daitch
•
To place the storytelling act at the center of a novel is a risky strategy: the stories must fascinate. Lim's stories do (except those few that he deliberately effaces as if to give a graphic representation of self-erasure). They have the exoticism, emotional authenticity, and intellectual depth to ensure that the reader will be enthralled.
–Norman Lock in the Review of Contemporary Fiction
•
[A] fantastical tapestry of the bizarre lives of various sets of twins slipping seamlessly into and out of one another's awareness…These layered narratives take on a critical mass with each iteration and repetition, as the novel examines the very act of storytelling… [I]n gorgeous language alternately athletic or sprawling, Lim's whip-smart novel offers revisionist histories that keep readers hungry for the heart of a narrative, for echoes that hold truths.
•
[R]ich in language, both fascinating and surprising.
–With a "Book Notes" playlist at Largehearted Boy
•
For this reader, much of the romance of American fiction seems faded until one reads a novel like The Strangers. As with some of the more interesting 20th century sentence-makers, Gertrude Stein, Djuna Barnes, Tomasso Landolfi, Robert Walser, or, closer to home, Gilbert Sorrentino and Roberto Bolaño, right from the start of The Strangers, Lim's characters run away from the writer, get lost, and hide within the writing.
–Paul Vangelisti at YourImpossibleVoice.com
___________________________
Available for purchase at Hyperallergic and SPD and Amazon, your local independent bookstore and elsewhere.
• • •
Fog  &  Car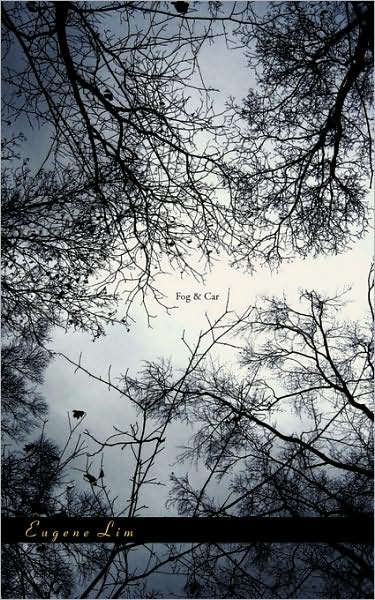 ISBN 0-9637563-0-6
Purchase it through Small Press Distribution, your local independent bookstore, Powell's, Amazon, or Barnes & Noble.
__________________________
JIM FOG IS MAROONED in a small Midwest town shortly after his divorce, succumbing to purposelessness and nostalgia. His ex, Sarah Car, has moved to New York City with the ambition of skipping over any mourning for their marriage. An old friend, ignorant himself of his action's consequences, enables Fog and Car to move through and haunt each other's lives. Eventually Fog and Car chase this friend, who is disguised to both of them, and the momentum of that chase pushes the two characters out of their static life-cages towards different unreal conclusions.
Fog & Car begins with the alternating voices and perspectives of a Mr Fog and a Ms Car. Eventually this symbolic dialectic—which examines a tension in the novel's tradition, the engineered ride of some narratives versus the associative cloud of others—collapses. The narrative's shifting styles finally find an equilibrium in a troubled and subversive escapism.

Praise for FOG & CAR
In this astonishing, assured first novel Eugene Lim intertwines elegant poetics with a fantastic plot, rife with love, mystery, malaise, and the supernatural. His gift for ingenious, startling permutations of language and plot make for a memorable, mesmerizing read. It was hard for me to put Fog and Car down; harder for me to stop thinking about.
—Lynn Crawford

The events of this novel take place in a space contrary to action, illuminating the silences of the page and the nothing that haunts the borders of "doing something." A beautifully paced and thoughtful work.
—Renee Gladman

In Fog & Car Eugene Lim scalpels deep into the loneliness of coupledom, into divorce, into obsession and stalking, into casual hookups, into homoerotic shocks. The book slowly heats its duos until they come to a rolling boil, blistering out surprises and unexpected complexities. Mr. Lim is definitely a writer to watch.
—Steve Katz

In Fog & Car, Eugene Lim renders the uncanny convergences of the lives of partners and strangers in a language entirely new. This is a deep, engulfing novel of breathtaking, even spooking precision—an altogether heady and heart-shaking debut.
—Gary Lutz

Reviews for FOG & CAR
In this debut novel documenting the aftermath of a shattered marriage — its disintegration evident in the artifacts of memory and loss strewn across an abandoned landscape — Eugene Lim doesn't as much collect and catalogue the fragments of lives shared, as artfully piece them into a puzzle reflective of players whose moves were induced by seemingly inconsequent forces… [A] phenomenal ability to nestle revelatory gems in the corners of his muscular text.

Eugene Lim's impressive debut novel… has the shape of a long turnpike that runs into an urban snarl of on and off ramps. Suddenly every incidental thread of the early, gently-paced narrative knots up into a supernatural tangle of a plot—souls are exchanged, coincidences multiply… To defy novelistic conventions is easy enough. The difficulty comes in custom-building new forms for a story, and new stories for these new forms.  Suiting the action to the word and the word to the action is no easy feat, but it is one that Lim has achieved with his first tragicomic novel.

FOG & CAR is a strange amalgam of several ideas, it begins with a dissolved marriage from which both ends begin to branch and splinter and spread back into each other in weird ways. I was surprised to be so captivated by a book about a ruined marriage, which it is only on the surface, what it really is is a puzzle and a book of worming forms, sometimes the tense shifts or lines are layered and/or repeated, there is a lot of subtle innovation, refreshing… FOG & CAR is new in familiar ways and familiar in new ways, and altogether a thing that turned my mind on in such a mode that I could not turn it off.

Lim peels relentlessly at his story's realism until it tugs loose, revealing much stranger happenings underneath… a disturbing mystery pitched somewhere between Mulholland Drive and City of Glass… [I]t never loses its appealing initial tone of aching loneliness, even as its characters and its goings-on grow increasingly supernatural.
—Review of Contemporary Fiction


How Lim manages to negotiate the reversals, to maintain believability, to take the reader with him, is only part of his success, for it is, ironically, the story's lack of resolution that brings satisfaction… It balances, albeit in a detached tone, compassionate depictions of moral dissolution with Murakami-styled fabulist plot departures, dramatic reversals, and coincidental connections. It leaves the reader with a balled up jumble of narrative threads, but in such a sophisticated and befuddling manner as to force Murakami's own mind into a tailspin. Fog & Car is an extraordinary debut.
Read an excerpt.
Buy through Small Press Distribution, Powell's, Amazon, or Barnes & Noble.
Review on Goodreads.